Aardvark Fishing Company Private Ltd - Goa
NEW OPPORTUNITIES
Hi Everyone......we did try to offer a new trip this year to Grand Island near Vasco de Gama (Mormagao) Harbour and a bar-b-que etc, unfortunately the Island is filthy and covered in broken bottles and litter, its awful, so we have changed our plans and are now offering something a little more local and convenient.
NEW TRIP
Start at 0830 hours at Senquirem Jetty, North Goa 20 mins from Calangute. Get onboard and fish within 10 minutes for snappers, groupers, salmon and Barramundi using trolling as the methodology.......fish for 4 hours in-shore, we can change to bottom fishing and drifting at any time, then back into Senquirem Jetty for a quick beer at a local establishment and then lunch at a local quality restaurant 5 mins from the jetty ( not included in the price but a magnificent setting and fabulous food ) drinks are on us at the restaurant ....beers and local spirits, return after the mid-day and afternoon sun to the boat at 1500 hours and return to fishing until night fall, then a beer at another local magnificent restaurant to reminisce and return to your holiday.
Beers and drinks on-board plus snacks when requested (samosas and potato waddas ), ladies toilet, gents stand-up facilities and access to the shore within 10 minutes if necessary. Four people fishing or 2 fishing and 2 watching dolphins and the sights....top quality gear, licensed skipper, and a fun filled day with us........6,000 rupees to fish per rod, 1500 rupees to watch and sunbath the day away on deck if you do not want to fish.......book early as we are already tight for tides and times!!!!!!!
Crocodile and Crabbing Trips available. On the Crocodile Trips up the Zuari River to see wild crocs laying on the banks of the river, plus we will troll for Barramundi and snapper both on the way and on the way back, lunch included on board plus free beers and refreshments.....its an all day thing again......4,000 rupees per person, minimum of 6 people required. BOOK EARLY.
CRABBING up the Sequirem CREEK.....half day trip, eat what you catch up the creek at the shack "Prince of Tides" in Candolim with chips and salad -masala or butter garlic crab available, wonderful widlife no wind or bouncing about....a flat calm trip...starts at about 1000 hrs in the morning back for lunch... BOOK EARLY.
Please refer to the GREY BOXES above for costs, timings and all information etc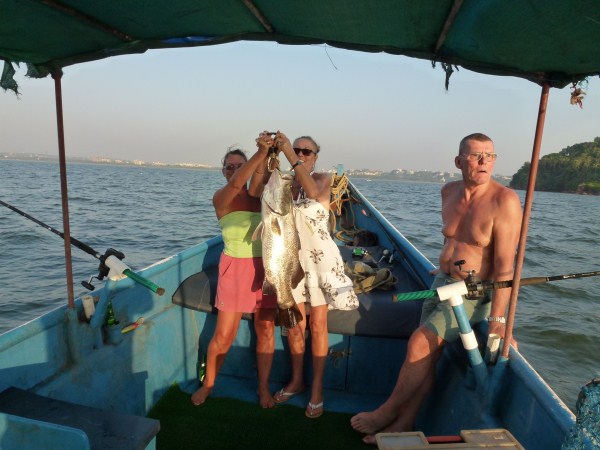 Grouper
Hello everyone....welcome to Aardvark Anglings new website Aardvark Fishing (Updated November 2015). We have registered this site on the internet as our own domain and we can be found on www.aardvarkfishing.com.
We will retain Aardvarkangling.page4.me as a back-up to this site but you can get all the information you need at either site.
For those fisherfolk whose wives are not so keen on fishing....your wife may be interested in visiting my wife Sandra's website......she is a food and lifestyle advisor.....nutritionist etc.....you can find her here:
http://Goadietaryadvisor.page4.me
She can also advise your wives, girlfriends etc of where the best massage, beauticians, hairstylists can be found.
Geoff Cooper - a super-fisherman from Ireland came to visit us in 2012 1nd is coming again in 2013.....go check his website
we loved him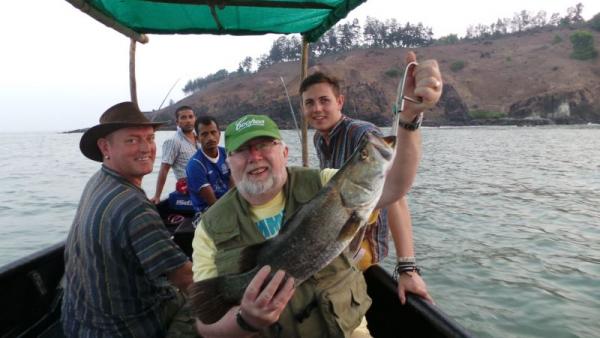 Dean and Tony are English guys who love fishing. We started this business because of the demand from English tourists who saw how we fished and the quality of our trips and the fish we were catching. We hope that you enjoy the site. Our contact details are all here.
WE commend to you the site of Geoff Cooper, a champion fisherman, who spent two weeks with us in Goa....
Photos of Geoff fishing with us are now located in the image gallery on the home page.

Indian Salmon
Please contact using the form below. Insert your Name, phone number, email address and the message details. If you do not receive a reply in 48 hours please contact us again and also try to phone us on the numbers below, if you are already here:
When or if you are already here, text us, and we will also get back to you!!!
Sandra.....+919822176791
Dean........+918605995466
and
Tony....+919822165509